(This essay was adapted from a journal entry.)
Yesterday, I began the overwhelming task of packing my belongings to return home from Seville. I sifted through clothes, shoes, purses, kitchen supplies, photos, books, and some really random memorabilia.
Mixed in with the chaos that was my life abroad, I found the two New York City shot glasses carefully wrapped in newspaper. The cheesy American souvenirs were intended as gifts for friends of friends in Seville.
I don't know why they never took the shot glasses, but they remained on a table in our apartment for the entire year. Maybe it was bad luck to accept such a gift. Perhaps they were waiting for us to offer a shot of whiskey, which we never did.
The shot glasses display the skyline of New York – the skyline of my youth, the skyline prior to the terrorist attack. I held New York City gingerly in my hands, and cried. I wept for the thousands of lives lost, others still missing, for the disaster occurring in my country, and for my guilt of being so far away.
It was all a blur, yet all so vivid. Everything changed that day. I knew it was time to go home. But now, I had two homes, two languages, two cultures, and two me-s.
Foucault and Nietzsche argue that our sense of reality is defined and structured by language. If this is true, then I regret understanding another language. Now the pain, the dolor is doubled because I feel it in English and Spanish.
I carefully packed the shot glasses. I know I'll cry again when I unwrap them.
I'll cry in English.
And I'll cry again in Spanish.
(I'm submitting this post for the Yeah Write Challenge. It happens to be "family free" month. Thus – this badge that seems a little inappropriate with such a somber post.)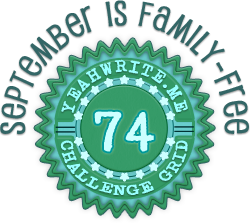 { 4 comments }